Zoe Nelson murder trial hears of 'gruesome' body find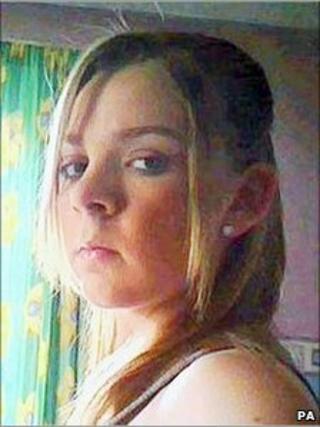 A body found in woodland was so badly burned it was hard to tell whether the corpse was male or female, a murder trial has heard.
The charred body of Zoe Nelson, 17, was found by a cyclist on 22 May last year on Monkey Hill on the outskirts of Wishaw, Lanarkshire.
One of the first police officers called to the scene described the sight as "gruesome".
Robert Bayne, 21, denies murdering the teenager and setting fire to her body.
The High Court in Edinburgh heard how trail bike enthusiast Stuart Bell, 45, chanced on the remains while out riding in Cambusnethan.
The court was told that Zoe's body was lying on a pile of blackened paper and she had plastic over her face.
Det Sgt Neil said he was led to an area of woodland near Branchalfield Drive.
"I was trying to make an assessment of the body lying there. Was it male or female was my first thought," he said.
"I was trying to assess what had happened, what had actually taken place here?"
'Red fire'
The trial also heard of a late night fire in the area the previous night.
Roberta Gold, 61, said she was closing her bathroom window when she saw a red hot glow among trees in a nearby field.
She said it was not unusual for youths to light fires in the area, or for dry grass to be burned in the field - but she said this fire looked different.
"It caught my eye because it was a very distinctive red," she said.
"It wasn't like a grass fire where you are getting a lot of sparks and trails of smoke - It was red hot and there were small flames coming from it."
Mrs Gold added: "The main redness looked as if it was something solid."
Mr Bayne denies attacking Zoe Nelson with a knife, putting a plastic sheet over her head to restrict her breathing and then setting fire to her.
He also denies an earlier attack on the teenager by punching her on the head and scratching her and, on another occasion, committing a breach of the peace by threatening her.
It is also claimed that after the murder, he tried to cover up the crime by setting fire to Zoe's body, washing his clothes, dumping her mobile phone and telling police that someone else was responsible.
A charge of attempting to defeat the ends of justice also alleges that he told Laura Anne Nelson where Zoe's body lay, but threatened to kill her if she reported what she had seen.
Mr Bayne denies all the charges against him, including an alleged assault on a detective and repeatedly stealing alcohol from an Asda store in Morningside Road, Newmains, on the day Zoe is said to have died.
The trial before judge Lady Dorrian continues.