Glasgow Airport reports passenger rise for second month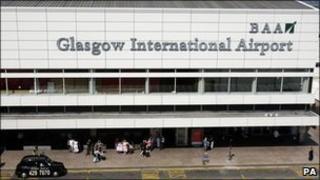 Glasgow Airport has reported a rise in passenger numbers for February.
The number of people passing through the airport was up by 3.9% to 416,252, compared with the same period last year.
The increase saw a rise in domestic traffic of 2.5% with the number of international passengers up by 6.6%.
Glasgow Airport said the second consecutive monthly rise showed that after a difficult period, the airport had "entered a period of re-growth".
Airport managing director Amanda McMillan said: "The numbers suggest a renewed confidence among passengers and this is being reflected in the decisions made by a number of airlines.
"Like other UK airports, we endured a difficult 2010 but we have been working closely with our airline partners to enhance our route network and increase capacity, and I'm pleased to say this has yielded positive results."