Gangland killers appeal minimum jail terms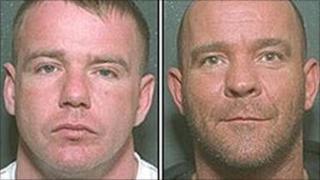 Two men serving the longest prison sentences in Scots legal history have claimed their minimum jail terms should be cut as their victims were "not wholly innocent".
Raymond Anderson, 49, and James McDonald, 37, shot dead Michael Lyons, at Applerow Motors in Glasgow in 2006.
Two other men, one of them the victim's cousin, were wounded in the attack.
Lawyers told the Court of Criminal Appeal the 35-year minimum jail terms imposed on the pair were "excessive".
Anderson and McDonald were kept handcuffed in the dock with armed police outside the courtroom and no members of the public present during their appeals in the court in Edinburgh.
Donald Findlay QC, acting for McDonald, said in several other murder cases which attracted lengthy punishment parts - the period to be served before a life sentence prisoner can seek release on parole - they were marked by the presence of innocent victims.
"In this case victims there certainly were but to describe them as being wholly innocent is, in the real world, without justification," he said.
"The only conclusion a jury could have come to was it was a case of bad men shooting other bad men and that it was a shooting in the context of the criminal underworld."
Mr Findlay told judge Lord Mackay, sitting with Lord Emslie and Lord Marnoch: "There is in this an element of that old saying that if one flies with the crows one may expect to be shot."
He said that jurors would have been entitled to take the view that it was "a feud in the context of organised crime".
The defence counsel argued that where an innocent member of the public going about their lawful business was murdered by a knife attacker then a minimum term of 35 years for the offender would not be contemplated.
Anderson and McDonald were found guilty of murdering 21-year-old Michael Lyons following a trial at the High Court in Glasgow in 2008.
The victim's cousin Steven Lyons, 21, and a friend Robert Pickett, 41, were also wounded in the gun attack at the MOT centre.
The trial judge, Lord Hardie, described it as a cold-blooded, premeditated execution and imposed the record sentences on the pair, warning that such activity "will not be tolerated in our civilised society".
Anderson and McDonald - both from Glasgow - subsequently appealed against their convictions but their challenges were rejected last year.
Mr Findlay told the appeal judges: "If 35 years for this case is to stand as a benchmark then it does throw askew the punishment parts which were imposed for what were, in my submission, much, much more serious cases where innocent victims were murdered."
He pointed out that ex-soldier Andrew Walker, who gunned down three Army colleagues during a payroll robbery in 1985, was given a minimum term of 27 years.
He said double murderer Howard Wilson, who shot dead two police officers in 1969, was given a punishment part to his life sentence of 25 years and mass murderer Abdelbaset al-Megrahi was sentenced to a minimum term of 27 years for the 1988 bombing of Pan Am flight 103 over Lockerbie.
Depths of depravity
Former soldier Thomas Smith, whose 32-year minimum term following the murder and sexual assault of Diane Fallon and her 10-year-old daughter Holly in Ayrshire, was upheld by appeal judges.
Smith was told he would have faced a 35-year punishment part if he had not pleaded guilty.
Mr Findlay asked the court to quash the 35-year minimum term imposed on McDonald and to substitute a lesser punishment part.
Gordon Jackson QC, for Anderson, said Smith's case had plumbed the depths of human depravity and atrocity and if 35 years was taken as the starting point in sentencing him then it could not be thought appropriate in Anderson's case.
He said that for Anderson the sentence would "pretty much be a whole life sentence".
"He would be 80 or 81 by the time he was allowed to apply for parole, never mind be released," he said.
The judges will give their decision in the case at a later date when Anderson and McDonald will not be brought back to court to hear the outcome.