Jobs hope for Strathclyde University £89m 'tech centre'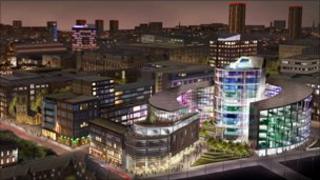 Plans have been announced for an £89m innovation centre which aims to place Scotland at the forefront of new and emerging 21st Century technologies.
The centre, at Strathclyde University in Glasgow, will engage academics and industry in areas such as energy, pharmaceuticals and engineering.
It aims to create 700 new research jobs and support 850 existing research jobs.
Ministers hope the project will increase research investment in Scotland by up to £150m in five years.
Launching the centre at Strathclyde University, First Minister Alex Salmond said: "I am delighted to be meeting the academics and industrialists who will drive this project forward. Together, they will cement Glasgow's reputation as a powerhouse for engineering, science and industry.
Global drive
"This city and this country will engineer the technologies of the 21st Century, just as Glasgow once dominated marine engineering in the 19th Century."
Construction on a 22,000 sq m city centre complex to house the project will start towards the end of the year, with the aim of having it fully operational by 2013.
Strathclyde University's principal, Professor Jim McDonald, said: "The technology and innovation centre will help transform Glasgow and Scotland.
"By capitalising on our leading, industry-relevant research, it will attract millions of pounds of inward investment to the city, drive global businesses, create jobs, and support the development of our highly-qualified graduates and postgraduates."