Firms guilty over scaffolding death of James Kelly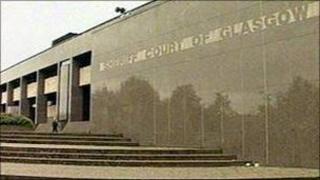 Two companies have been convicted of health and safety breaches after a construction worker fell to his death at a top private school.
James Kelly, 50, was erecting stonework at Glasgow Academy in April 2007 when he fell about 30ft from scaffolding.
His employer Stirling Stone Limited and Robertson Construction Central Limited were found to have failed to meet their health and safety obligations.
Sentence at Glasgow Sheriff Court was deferred until next month.
The three-week trial heard that Mr Kelly had been employed as a labourer by Stirling Stone Limited.
He was working on the third level of a loading tower of the scaffolding when he fell in Glasgow's Colebrook Street on 26 April 2007.
'Family devastated'
Following the case, Elaine Taylor, head of the health and safety division at the Crown Office, said: "James Kelly went to work and as a result of failings by his employer and the principal contractor on site, he never returned home.
"He left a family devastated by their loss. The incident that led to Mr Kelly's death was entirely avoidable had the two accused met their statutory health and safety obligations."
Following the case, Health and Safety Executive inspector Iain Brodie said: "Companies working at height should ensure scaffolding is correctly erected, safe to use and properly checked and maintained.
"Where building materials are to be transferred into loading towers on scaffolding there should be a realistic safe system of work for workers to follow. They should be given information, instruction, training, and be adequately supervised.
"If these companies had taken these steps, then James Kelly might be alive today."