Woman jailed over fatal knife attack in Glasgow flat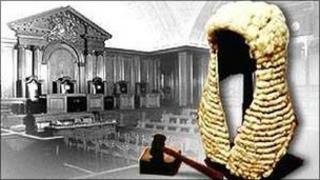 A mother-of-two who killed a man in a knife attack after she was asked to leave his flat in Glasgow has been jailed for four-and-a-half years.
Deborah Laird, 30, admitted culpable homicide over the attack on 50-year-old George Ross at his flat in the city's Barmulloch area in May 2010.
Laird was arrested after failing to appear at the High Court in Edinburgh for sentencing earlier this week.
Her lawyer told that hearing she was unfit to attend because she was drunk.
At an earlier hearing, the court heard how Mr Ross - whose right arm was in plaster - had been drinking all evening in a pub in Barmulloch on 4 May.
Music row
Laird, who had also been drinking heavily, turned up at Mr Ross's flat with a friend who knew him.
Mr Ross eventually told her to be quiet after she turned up the volume of the music.
The court heard he grabbed her by the arm to get her out of the house but she pulled away from him.
During a scuffle which followed, Mr Ross's plaster cast came into contact with Laird's face, giving her a nose bleed.
Laird then went into the kitchen, picked up a knife and began stabbing Mr Ross on the head and body.
Another man in the flat took the knife from her, washed it and left it on the sideboard.
Police called to the scene found Laird who told them: "Aye, I stabbed him. Look what he done to my face."
Mr Ross was taken to hospital following the attack and his injuries were found to be superficial.
They were treated with sutures and glue and he was kept in overnight.
'Rapid septicaemia'
He returned to Glasgow Royal Infirmary 28 hours later and died on 6 May after suffering blood poisoning and developing a flesh-eating bug.
Passing sentence, Lord Woolman told Laird: "Mr Ross died because bacteria entered his body through the stab wounds to his back. That led to necrotising fasciitis and the onset of rapid septicaemia."
"Although the precise manner of Mr Ross's death was unexpected, anyone who uses a knife to repeatedly strike another human being can expect to cause harm.
"The circumstances of the crime are distressingly familiar involving alcohol, loss of control and violence."
The judge said he took into account the first offender had expressed genuine remorse and had mental health difficulties, but said only a jail sentence was appropriate.
Lord Woolman told Laird he would have jailed her for six years but for her guilty plea.
He also ordered her to be kept under supervision for two years.