Concern over Glasgow nurseries organised crime link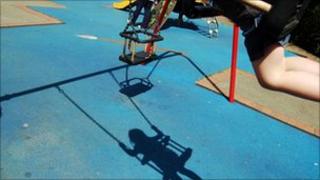 Strathclyde Police is to share data with the Care Commission over concerns that organised criminals are using child care nurseries to launder money.
The Scottish government said police had succeeded in cracking down on security firms and private-hire taxis which were being used as a front for gangsters.
Police said organised criminals had now attempted to infiltrate nurseries in the Strathclyde area.
The care watchdog will carry out checks on who is running child care services.
Under the agreement, the watchdog will be able to check out nursery owners, managers and staff when they apply to register their business with the Care Commission.
David Wiseman, from the watchdog, said the commission regularly worked with the police and local authorities across the country to ensure services were providing the best standards of care.
"However, recently there have been growing concerns about whether nursery and childcare operators in Glasgow and the Strathclyde region may be involved in illegal activities." he said.
"The safety and wellbeing of children using care services is of the utmost importance and the Care Commission works rigorously to ensure that only fit and proper people are allowed to run these services.
"We have therefore agreed to formally work with Strathclyde Police as part of an official information sharing initiative to further safeguard children in care."
'Legitimate profit'
Mr Wiseman said that by combining forces with the police, they would be able to identify any existing or potential childcare service owners that were involved with organised crime in the Strathclyde area.
Strathclyde Police assistant chief constable, George Hamilton, added: "Nurseries, which by their very nature see a lot of cash transactions, are just one of the businesses that organised criminals have attempted to infiltrate.
"Involvement in the service sector generally, including nurseries, provide a means for organised criminals to launder their money through the business to make it appear as legitimate profit.
"We are well aware of all their tactics and by working together with organisations like the Care Commission we will disrupt and deter the criminals and therefore allow the truly legitimate enterprises to flourish."
The initiative has also been backed by the Scottish government.
Justice Secretary Kenny MacAskill said: "Serious organised crime hurts ordinary decent people - it threatens their safety, it threatens their livelihoods and it damages Scotland's economy.
"Organised criminals are driven by their own greed and their desire for power, status and influence. Their morality is driven by the bottom line and any kind of business - even nurseries and childcare services - will be targeted if the gangsters see money making potential.
"The successes our police are achieving in driving them away from their traditional homes of the security and private taxi-hire industries means the gangsters are focussing in on other businesses which they think are easy targets."