Margaret Jaconelli fails in 2014 Games eviction plea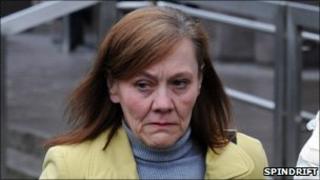 A Glasgow grandmother has failed in her final attempt to stop council plans to demolish her home to make way for the Commonwealth Games in 2014.
Glasgow City Council was granted a compulsory purchase order for Margaret Jaconelli's tenement flat.
A sheriff has ruled against the 52-year-old's appeal last week, clearing the way for eviction.
Her application to take the case to the Court of Session has now been refused by Glasgow Sheriff Court.
Sheriff Principal James Taylor ruled that it was not competent to progress the case any further.
Mrs Jaconelli, the last remaining resident in a block of flats at Ardenlea Street, will be evicted from her home on Thursday.
'Unsuitable alternative'
The property is on a site earmarked for the athletes' village for the 2014 games and will be demolished by contractors soon after she leaves.
Mrs Jaconelli said the £30,000 initially offered for her home, which she has lived in for 34 years, was not enough to buy another property.
Glasgow City Council said the district valuer had since increased the offer to £90,000.
She has also been offered alternative accommodation but claims that it has been unsuitable.
She earlier told a civil hearing at the court that she did not object to the Commonwealth Games nor to the building of an athletes' village, but to the way the council has gone about its development.
She added: "They're stealing my property after us working so hard for it."
Mrs Jaconelli can now appeal the compensation awarded to her through the Lands Tribunal but the eviction will not be postponed.