Hillington toddler died 'playing with plug'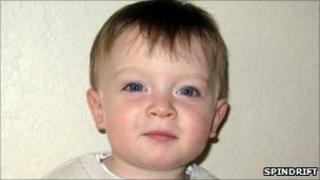 A toddler died after playing with a plug left with exposed wires, a fatal accident inquiry (FAI) has heard.
Liam Boyle, aged 21 months, was electrocuted at his family home in Dryburn Avenue, Hillington on 28 February 2009.
The hearing at Glasgow Sheriff Court was told his mother Claire Hughes found him after it is alleged a handyman left the plug when fitting a new oven.
Ms Hughes, 32, had tried to resuscitate her son while waiting for an ambulance.
But she was told he was dead shortly after arriving at the Southern General Hospital.
It is alleged the boy plugged the plug into a socket in his toy room and was electrocuted after touching the wires.
The FAI into Liam's death heard a statement from depute fiscal Maureen McGovern on behalf of Ms Hughes.
She said a 68-year-old handyman, Daniel Rough, and his assistant, Simon Burns, came to fit a new oven at her home.
She said she supervised her son in the living room while the work was being carried out in the kitchen.
The inquiry was told she recalled seeing a plug on a couch before the workmen left but did not realise that wires were exposed and did not see Liam handling it.
Ms Hughes said she went to the kitchen to clear up after the men left with her old oven and could hear Liam in his toy room singing and muttering to himself.
She later went into the toy room and discovered him lying beside the plug socket.
Mouth-to-mouth
Ms Hughes said: "He was lying just the way he normally sleeps, on his front with his bottom in the air. At first I thought he was sleeping."
She said that when she realised something was wrong she became hysterical and tried to give him mouth-to-mouth.
Ms Hughes added: "The only time that I remember that day was 12.12pm. I remember this vividly because this is when the doctor came and told me Liam was dead."
Mr Rough, a retired handyman who has no formal qualifications in electrical work, told the inquiry he left the plug lying on the floor beside the old oven but did not put it on a couch.
He said the cable on the new oven was too short so he disconnected the plug in the living room, and left it lying beside the old oven.
Mr Rough said he assumed his assistant had taken it away with the old oven.
The inquiry before Sheriff Ian Miller continues.