Plug death toddler Liam Boyle 'died in seconds'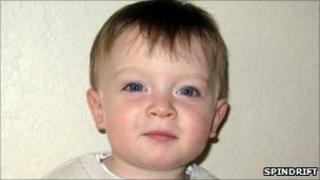 An inquiry into the death of a toddler who was electrocuted playing with a severed plug has heard he would have died within seconds.
Liam Boyle, aged 21 months, was found by his mother lying on the floor of his family home in Dryburn Avenue, Hillington, on 28 February 2009.
A fatal accident inquiry into the circumstances of his death is being held at Glasgow Sheriff Court.
It is believed the plug and cable with bare wires was left behind by workmen.
Consultant paediatric pathologist Clair Evans, who carried out a post-mortem examination on Liam, said he would not have suffered and would have passed away in seconds.
The toddler is thought to have found the plug and placed it in a socket in his toy room.
In a statement read out at the inquiry, Ms Evans stated that the cause of death was electrocution.
She said Liam had suffered electrical burns to his hands where he had grabbed the exposed wires.
The pathologist added: "The electrical current would have run through the child's heart and consequently the heart would have been stunned.
"Death would have followed extremely quickly, probably within seconds.
"The child probably wouldn't have realised what was happening or had the opportunity to feel pain."
'Fuse bypassed'
The inquiry also heard from specialist health and safety inspector John Madden, who said it was likely that the child had grabbed the exposed live and neutral wires.
Handyman Daniel Rough and his assistant Simon Burns were fitting a new oven at the home.
Mr Rough earlier told the inquiry he had assumed his assistant had taken away the severed plug with the old oven.
Mr Madden added that it was obvious that if the workmen had taken the cable away with them, Liam's death would not have happened.
However, he added that they were suitable to carry out the job required, which was removing an old faulty oven and replacing it with a new one.
The inquiry continues.