Margaret Jaconelli loses 2014 Games eviction fight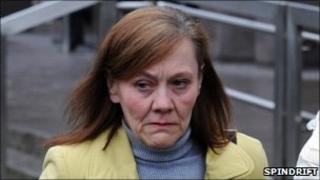 A woman whose home in Glasgow is to be demolished to make way for the 2014 Commonwealth Games has lost her legal fight against eviction.
Glasgow City Council was last week granted a compulsory purchase order for Margaret Jaconelli's Dalmarnock flat.
The 52-year-old challenged the decision at a last-minute hearing at the Court of Session in Edinburgh.
But she will now be put out of her flat on Friday after a judge said he would not interfere in Sheriff Court rulings.
The decision by Lord Uist means Mrs Jaconelli will be evicted from her two-bedroom property by noon.
The grandmother is the last remaining resident in a block of flats at Ardenlea Street.
She was told earlier this week that she could appeal the compensation awarded to her through the Lands Tribunal, but the eviction scheduled for Thursday afternoon would not be postponed.
Mrs Jaconelli said the £30,000 initially offered for her home, where she has lived in for 34 years, was not enough to buy another property.
The city council said the district valuer had since increased the offer to £90,000.
'Steal my house'
Before the case was heard in Edinburgh, Mrs Jaconelli said: "Me and my family have worked all our lives for what we have.
"I still maintain that this council is trying to steal my house from me."
A spokesman for Glasgow City Council said the compulsory purchase order was a "last resort" due to the "unbridgeable gap" between the valuation set by the district valuer and the sum being sought by Mrs Jaconelli.
"We are pleased with Lord Uist's decision and intend to proceed with the eviction," he said.
"Mrs Jaconelli has the choice of three alternative properties in Glasgow and we urge her to pick one of them.
"We have been negotiating with Mrs Jaconelli since 2007 over mutually agreeable compensation terms and a new home for the family."