Christmas Day killer Amanda Nicoll sentenced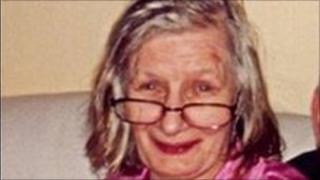 A woman who stabbed a grandmother to death in her home on Christmas Day has been jailed for a minimum of 16 years.
Amanda Nicoll slit Hannah Smith's throat and stabbed her 45 times in the attack in the Cranhill area of Glasgow.
Judge Lord Turnbull said the crime was "almost beyond belief" and told the 29-year-old: "The brutality of events is quite extraordinary."
Nicoll was earlier given a life sentence after admitting murdering the 63-year-old in December 2009.
The earlier hearing at the High Court in Glasgow heard how Nicoll was friends with Mrs Smith's daughter, Tracy Currie, before she died of a drug overdose.
Following Tracy's death, Nicoll still occasionally visited Mrs Smith to get cash from her even though she was aware that the pensioner blamed her for her daughter's death.
On the night of the murder, Nicoll was visiting her dad who lived in the same tower block as Mrs Smith and decided to visit her too.
Frenzied attack
Prosecutor Iain McSporran told the court: "It is the accused's position that the deceased demanded that she leave her house after initially allowing her entry.
"It is no exaggeration to describe the injuries as illustrative of a frenzied attack"
"She stated that the deceased repeatedly demanded that she leave her house, screaming at her that she was 'nothing but a junkie'."
The court heard that Nicoll then grabbed a knife and slit Mrs Smith's throat.
Mr McSporran added: "The accused states that the deceased continued to scream at her before falling to the floor.
"She then slit the deceased's throat for a second time and, after some prompting, accepted stabbing Hannah Smith repeatedly on the chest and throat area.
"She also claims that she 'slit' the deceased's legs.
"She said that she was angry and related this anger to the fact that Hannah Smith blamed her for her daughter's death."
The court was told that Nicoll then left the flat, leaving the pensioner lying on the floor covered in blood, and locked the door with a key she had taken.
Mrs Smith's grand-daughters later raised the alarm on 28 December, after there was no answer at her door.
Police gained entry to the flat and found the pensioner lying dead in her living room.