Margaret Jaconelli's 2014 Games eviction deadlock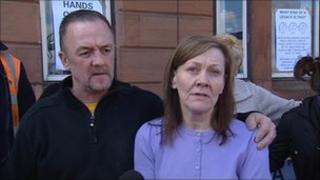 A woman whose home is to be demolished to make way for the 2014 Commonwealth Games in Glasgow said she would leave if the council agreed to mediation.
Margaret Jaconelli was due to have been evicted from her Dalmarnock flat at noon, after losing her legal battles.
A statement from her lawyer said she was prepared to leave if the parties could agree a date and time.
Glasgow City Council was last week granted a compulsory purchase order for the two-bedroom property.
The 52-year-old challenged the decision at a last-minute hearing at the Court of Session in Edinburgh but lost her legal fight on Thursday.
The grandmother is the last remaining resident in a block of flats at Ardenlea Street.
She was told earlier this week that she could appeal against the compensation awarded to her through the Lands Tribunal, but the eviction would not be postponed.
Mrs Jaconelli said the £30,000 initially offered for her two-bedroom property, where she has lived in for 34 years, was not enough to buy another property.
The city council said the district valuer had since increased the offer to £90,000.
A letter from her lawyer to Glasgow City Council said: "On my client's behalf I find your refusal to take up the Scottish government's offer of mediation as unreasonable and unnecessary, and not the behaviour to be expected of Scotland's largest local authority.
"There is no need to subject my client and her family and children to the mental trauma and turmoil of a physical ejection.
"I would ask that Glasgow City Council reconsider its decision; as advised Mrs Jaconelli is prepared to voluntarily leave her home and we can agree a date and time; but she wants to take up the Scottish government's offer of mediation. There is no good reason to refuse this proposal."
'Steal my house'
Before the case was heard in Edinburgh, Mrs Jaconelli said: "Me and my family have worked all our lives for what we have.
"I still maintain that this council is trying to steal my house from me."
A spokesman for Glasgow City Council said the compulsory purchase order was a "last resort" due to the "unbridgeable gap" between the valuation set by the district valuer and the sum being sought by Mrs Jaconelli.
"We are pleased with Lord Uist's decision and intend to proceed with the eviction," he said.
"Mrs Jaconelli has the choice of three alternative properties in Glasgow and we urge her to pick one of them.
"We have been negotiating with Mrs Jaconelli since 2007 over mutually agreeable compensation terms and a new home for the family."