St Margaret's Hospice's long-term future secured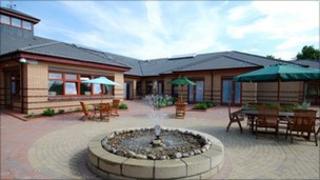 The long-term future of Scotland's largest hospice has been secured after the NHS dropped plans to redevelop another site.
There had been fears over the survival of St Margaret's after NHS Greater Glasgow and Clyde said it would phase out "continuing care" provision at the West Dunbartonshire site.
However, contractual issues have halted plans to develop Blawarthill Hospital.
This means 30 continuing care beds will be retained at St Margaret's.
Its chairman, Professor Leo Martin, said: "This is tremendous news for our patients, their families, our staff and everyone associated with the hospice.
"We look forward to now receiving a long term contract from the Health Board that will secure the excellent provision for our patients and families at St Margaret's."
Andrew Robertson, health board chairman, said the decision ended the uncertainty for hospice staff.
Social housing
"We are disappointed that the Blawarthill redevelopment will not now proceed as planned but I was pleased to inform St Margaret's Hospice chairman, Professor Leo Martin, at a meeting today that we are lifting the notice to the hospice," he said.
"This will end the uncertainty for the hospice staff, patients and supporters while assuring the better facilities for NHS patients while we decide the longer-term future of the Blawarthill beds."
It emerged last month that the plans for Blawarthill - which included revamping its 60 continuing care beds - had fallen through for contractual reasons.
The plan had been for the NHS accommodation to be redeveloped along with the development of new Glasgow City Council residential care beds and social housing built by Yoker Housing Association, all on the one site.
However, the health board said the contractual problems now meant only the residential care and social housing plans could go ahead.
It said a review of continuing care provision would get under way in May and would be completed by the summer.