'They are worried and they are scared'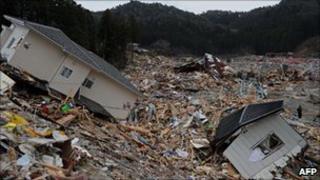 "A couple of days ago I spoke to an ex-colleague. They've been sent to Fukishima prefecture."
Thirty-five-year-old Ryuichi Itok works as a support worker with a client who has learning difficulties on the southside of Glasgow.
But before coming to Scotland he'd served for 12 years in Japan's self-defence force.
As a specialist military engineer, he had direct experience of working in earthquake zones.
"I had two big earthquake disasters", he explains.
"One was the Kobe earthquake, and the other one was the Niigata earthquake."
"They were very bad, but nothing compared to this disaster."
That experience means he, more than most people, can imagine exactly what is going on at home.
"I feel so close, I feel so close", he says.
And he admits it is "very frustrating" not being able to use his skills and experience.
But, at the same time that Ryuichi wants to go home, members of his family are desperate to leave Japan.
"I spoke to my mum ... and she said if she could she'd like to come to Scotland."
"Because Scotland, it seems has no earthquakes."
Ryuichi's friend, 38-year-old Yoshi Maruyama, can sympathise.
Members of his family have been left traumatised and shaken too.
"One day I was talking to my sister on Skype, and suddenly she stopped and went to check outside," he says.
When she came back, she apologised.
"'Sorry. That was just the wind', she said. But she'd thought it was another quake."
"Everyone has become so sensitive. Very, very nervous about earthquakes."
Yoshi, who works as head chef in a Glasgow restaurant, says now he is staying in touch with people at home much more than he used to.
"Since the big earthquake I try to keep in contact with my family almost every day, maybe five or six times a day."
Yoshi was one of the lucky ones. Within an hour of hearing that the quake had struck he was able to get through to family and friends, and find out that everyone was alright.
Radiation fears
But Joseph Suzuki, who is 50 and runs a catering business in Paisley, had several anxious days before he could get news of relatives.
"The telephone system in Japan was down, so it was only after they replied to my e-mail that I knew they were okay," he says.
"For a couple of days I wasn't sure if they were ok, or not."
Joseph says everyone is still worried about what's happening at the nuclear power plants, damaged by the earthquake and the following tsunami.
"The power plant situation is very serious and, of course, it's still not under control", he says.
Yoshi Muruyama adds: "The problem about nuclear (radiation) is that they can't see anything. They can't tell if they are contaminated or not.
"That's why they are worried and they are scared.
"They're trying to escape, and keep a distance from the nuclear power stations."
Ryuichi Itok says Japan's history gives the nuclear issue a particular resonance.
"Everybody is worried about radiation", he says, "but especially the Japanese people. We've had experience before."
Staying optimistic
He's referring, of course, to the after-effects of the atomic bombs dropped on Japanese cities at the end of World War II.
Ryuichi says those parallels have been underlined by the striking similarities between images of Hiroshima and Nagasaki after the nuclear blasts, and the devastation caused by the earthquake and tsunami.
"The photographs from 1945 and from 2011 are exactly the same," he says.
But even after such wide-scale destruction, Joseph Suzuki remains optimistic that Japan will be able to rebuild and recover.
"The situation at the moment is very much still not under control", he concedes.
"But I am sure that the Japanese people are working very hard to recover. And sooner or later I think that they will successfully recover from the situation."