Backing for £73m Ravenscraig financing plan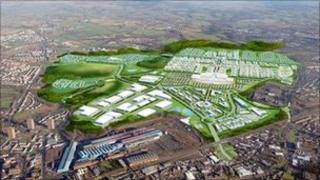 A £73m plan to redevelop the former Ravenscraig steel works site in North Lanarkshire could be paid for through a new method of public financing.
Scottish ministers have provisionally backed plans to fund the scheme through Tax Incremental Financing.
This will allow North Lanarkshire Council to borrow money against future increases in business rates income.
Phase two of the Ravenscraig scheme includes plans to link the M8 and M74 motorways and create a new town centre.
Tax Incremental Financing (TIF) has been used in many countries outwith the United Kingdom to fund public development projects.
Loan repaid
The Scottish Futures Trust - a body set up by the Scottish government to reduce the cost of funding public projects - has developed TIF for use here.
Under the terms of the North Lanarkshire business case, the council would borrow the finance from the Public Works Loan Board.
It would then be repaid at a future date from projected increases in business rates income resulting from new development.
North Lanarkshire Council leader Jim McCabe said: "The TIF funding will mean the creation of up to 5,000 jobs over the first six years of the project and will allow us to lever in up to £425m in private sector investment.
"That will lead to £1.2bn of investment over the 30-year lifetime of the project with the creation of 12,600 jobs.
"The closure of Ravenscraig steelworks was a hammer blow for North Lanarkshire and Scotland, but this allows us to secure a real and prosperous future for the site and for the area as a whole."
The first phase of development at Ravenscraig is underway with the construction of the new £70m Motherwell College campus, opening of the £31m Ravenscraig Regional Sport Facility and completion of the first houses on the site.
The entire project is expected to take up to 30 years to complete.