Zoe Nelson murder accused 'hoped to batter men'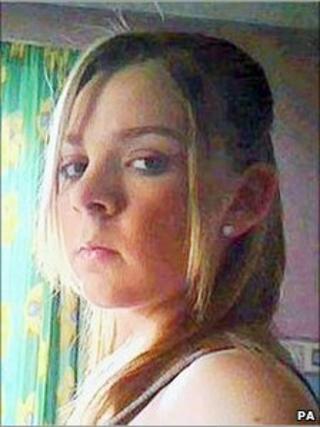 The man accused of murdering a teenager found in woods in Lanarkshire asked for help to "batter" the last people to see her, a court has heard.
The burnt body of Zoe Nelson, a 17-year-old mechanics student, was found near Wishaw on 23 May 2010.
Robert Bayne, 21, of Cambusnethan, Wishaw, denies murdering Miss Nelson.
The High Court in Edinburgh heard he made the threats before the remains, found on the outskirts of Wishaw, were identified as the missing teenager.
Daniel Dobson, 19, who described Zoe as a good friend, told the court she had once protected him when two men tried to attack him with a hammer.
Mr Dobson said he had seen Mr Bayne dating both Zoe and her younger sister, Laura Anne.
He said Mr Bayne phoned Mr Dobson the day after the body was found and claimed Zoe had been attacked and beaten up by two men and "a couple of lassies."
Unidentified body
"He asked me to help him batter someone," said Mr Dobson, adding that Mr Bayne was looking for men he named as Ross Hemphill and Stuart Campbell, who he claimed was the last person to see Zoe.
"He said Zoe went missing. There was a body found.
"I said, 'You are kidding me on,' but I ran into the house and asked my step-mum to put the telly on."
Mr Dobson said he was still on the phone to Bayne when he read about the finding of an unidentified body.
"I don't know why he said this because we didn't know it was Zoe found," he added.
The trial also heard that Zoe appeared to be worried about Laura Anne, then 16.
Using his nick-name, she sent Mr Dobson a text message: "Bulldog, it's Zoe, Do me a favour and make sure you take care of her when you are with her and Rab and make sure Rab doesn't touch her"
The message ends: "Cheers, mate. Love you forever."
The jury were also told about a man seen running in the area where Zoe was found.
Ross Mitchell, 33, said he was at home in Branchalfield Drive, Cambusnethan, Wishaw, sitting on his couch to watch football on television.
"I saw a male with no top on running at high speed across the front of my house which I thought was very strange," said Mr Ross.
He later told police: "He obviously worked out and had a really good physique. He had short very dark hair, spiky like a McFly haircut."
Mr Ross explained in court: "Like a messy kind of boy band type of haircut."
'Identity parade'
The trial heard that Mr Ross later attended a video identity parade but failed to pick out Mr Bayne.
Mr Bayne denies murder and attempting to defeat the ends of justice.
He is accused of attacking Zoe Nelson with a knife at Monkey Hill, near Branchalfield Drive, Cambusnethan, putting a plastic sheet over her head to restrict her breathing and then setting fire to her on 22 May 2010.
He also denies an earlier attack on her by punching her on the head and scratching her and, on another occasion, committing a breach of the peace by threatening her.
It is also claimed that after the murder, he tried to cover up his alleged crime by setting fire to Zoe's body, washing his clothes, dumping her mobile phone and telling police that someone else was responsible.
It is also claimed he disclosed the whereabouts of Zoe's body to her sister, then threatened her and implied he would kill her if she told what she had seen.
The trial before judge Lady Dorrian continues.