Southern General surgery switch over heating fault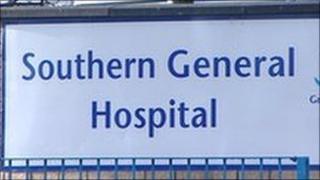 Some surgery services are being moved out of Glasgow's Southern General Hospital due to a major heating fault.
Inpatient gynaecology surgery services are being temporarily switched to the city's Royal Infirmary from Monday.
Health officials said engineers had tried to fix the fault for several weeks but were unable to do so without disrupting some clinical services.
They said maternity services at the Southern General and Royal Infirmary would not be affected by the move.
NHS Greater Glasgow and Clyde (GGC) said an additional ward for affected in-patients would be made available at the Princess Royal Maternity, which is located on the Glasgow Royal Infirmary campus.
'Best solution'
NHS GGC director of women's and children's services, Kevin Hill, said: "For a number of weeks we have been trying to work around the problem while engineers carried out their repair work.
"However, this is not sustainable and we need to move gynaecology services to the Royal Infirmary to ensure we minimise disruption to our patients as much as possible.
"I am confident this is the best solution for both patients and staff and it also means that engineers can get to the heart of the problem without having to work within a busy working clinical environment."
The Southern General's gynaecology outpatient service will be unaffected by the move and will continue as normal.
Emergency gynaecology assessment will also remain available at the Southern for patients who require urgent and immediate surgery.
NHS GGC said that less urgent cases may be diverted to the Royal Infirmary.