Park Mains High School to reopen after gas leak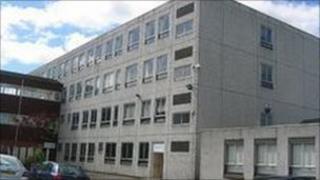 A secondary school in Renfrewshire which was closed after a suspected gas leak is to reopen on Friday, the local council has confirmed.
Pupils were prevented from entering Park Mains High School in Erskine earlier after a smell of gas was detected close to the PE block.
Scottish Gas engineers later identified the cause as a corroded pipe.
Renfrewshire Council said maintenance work was being carried out and the school was due to open on Friday.
The problem was in an existing pipe and is unrelated to construction work being carried out on the new £33m school being built on a site next to the current building.
A Renfrewshire Council spokesperson said: "We understand that a school closure causes inconvenience but people will understand that there was no alternative on this occasion. The problem only emerged this morning and couldn't be resolved in the time available.
"Everything possible was done to alert parents by sending text messages, updating the council web site and alerting local radio stations. Transport contractors taking pupils to Park Mains assisted by returning pupils home."
Park Mains High has a roll of 1,338 pupils.