Glasgow honours 'forgotten hero' Lieutenant John Young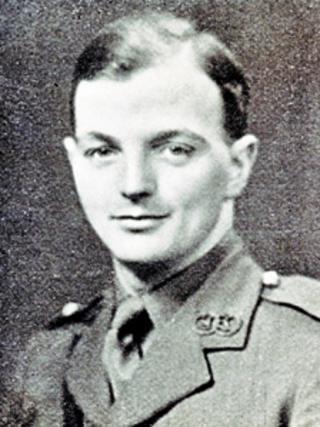 A memorial has been unveiled in Glasgow to honour a "forgotten hero" who was killed during World War II.
Lieutenant John Young died, aged 24, while covering a withdrawal in the face of a Japanese invasion of India.
His sacrifice on 31 March 1944 allowed comrades to prepare for the ensuing 64-day Battle of Kohima, which was a turning point in the war with Japan.
A granite plaque was unveiled outside Lt Young's former home in Glasgow's west end.
The city decided to honour Lt Young after his story was brought to the attention of the council by Roy McCallum, the managing director of a local advertising agency.
He came across the story of Lt Young's bravery, which had not been previously recognised, while researching his own family's military service.
Glasgow Lord Provost Bob Winter unveiled the memorial on the pavement outside 7 Jedburgh Gardens in the city's Kelvinside area.
He said: "Lt Young's story is one of amazing courage, care for those under his command and bravery.
"Seeing that his men were going to be wiped out by the larger Japanese force, Lt Young sent them to safety knowing that he would give his life and thereby fulfilled his orders to fight to the last man.
"His bravery and that of the other men of the Assam Regiment, allowed the garrison town of Kohima to get ready for the Japanese advance into India. The Battle of Kohima, was a turning point in the war in the Far East and stopped the Japanese invasion of India.
"The epitaph to the fallen soldiers of Kohima reads: 'When you go home, tell them of us and say, for their tomorrow, we gave our today'. If ever a person epitomised this sacrifice it would be John Young. I am humble in the face of such bravery."
The inscription on the plaque reads: "7 Jedburgh Gardens was the home of Lieutenant John M.Young, Argyll and Sutherland Highlanders attached The Assam Regiment who, age 24, in World War II at Kharasom near Kohima, gave his life in a heroic stand to protect India from invasion having first saved the lives of the brave men he led."