CCTV images of Glasgow city centre rape suspects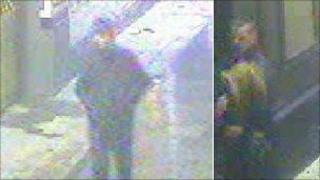 Police investigating the rape of a 21-year-old woman in Glasgow city centre have released CCTV images of two men suspected of carrying out the attack.
The woman was raped in McCormack Lane after being grabbed while walking along Buchanan Street in the early hours of 30 January.
The first man, who wore dark clothing, is described as white and in his 30s.
The second man is described as white, in his 30s, and was wearing a blue beanie hat.
Det Sgt Duncan Cameron, from Strathclyde Police, said: "This young woman has gone through an ordeal that has had a profound affect on her and her family.
"Our commitment to her continues, and we are now asking for the help of the public to identify the men in these CCTV images, which we have now released.
"Please look carefully at them. Do you know either of these two men? Do you recognise them? Were you in Glasgow city centre on Sunday night, 30 January, and remember seeing either of these two men?
"I would urge anyone who may recognise these men or who has any knowledge of this attack to come forward and assist us in this ongoing investigation."