Prostate cancer sufferers 'delay seeing GP'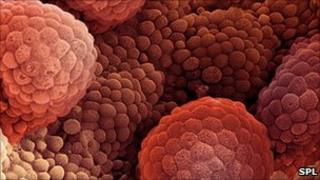 Men with prostate cancer waste vital time by delaying seeing their GP about their symptoms, a new study suggests.
A survey of 320 men with the disease in the NHS Greater Glasgow and Clyde area found 85% had experienced symptoms for more than a month before contacting a health professional.
More than 40% of this group had waited for more than a year before seeking medical advice.
This was despite a majority of them describing symptoms as "troublesome".
Symptoms include changes in urinary habits, which can be linked to problems with the prostate gland, including cancer.
The research, funded by the Prostate Cancer Charity Scotland and undertaken by the University of Stirling's Cancer Care Research Centre, found eight out of 10 of those who put off seeking medical help did so because they thought their symptoms were just part of the normal ageing process.
'Embarrassed'
About 20% delayed because they were "embarrassed", with others stating they would rather not find out if they were ill.
Despite prostate cancer being the most common cancer in men in Scotland, half of those surveyed - who were all diagnosed with the cancer - believed they were at a low risk of developing the disease.
About 2,700 men are diagnosed with prostate cancer every year in Scotland and 19,000 Scottish men are currently living with the disease. Two men die of prostate cancer every day in Scotland.
Older men, men with a family history of the cancer and men of black African and black Caribbean descent are more at risk.
Ann Ferguson, from the Prostate Cancer Charity Scotland, said the research offered a valuable insight into understanding why many men delayed visiting their GP, even if they were concerned about symptoms that could be related to prostate cancer.
She said: "Although in some men prostate cancer can be slow-growing, others will have an aggressive form of the disease - where time is very much of the essence.
"The earlier prostate cancer can be detected the higher the chance there is of it being treated successfully.
"The Prostate Cancer Charity Scotland would therefore encourage men not to delay seeking medical advice on experiencing symptoms such as changes in urinary habits."
Anyone concerned about prostate cancer can call the charity's free and confidential helpline on 0800 074 8383.