Kate Harper admonished after abandoning child in cold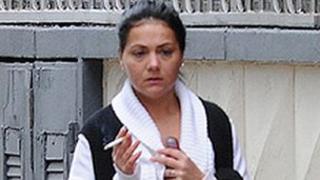 A woman who left a disabled six-year-old girl outside overnight in freezing temperatures has been admonished.
Kate Harper, 26, admitted leaving the child, who is blind and deaf, strapped in her pram in Kingspark, Glasgow, on Guy Fawkes night in 2009.
Glasgow Sheriff Court heard the girl suffered hypothermia and almost died.
Sentence was deferred last year to allow Harper to show good behaviour. She was admonished after receiving a positive social work report.
At an earlier hearing, the court was told that Harper attended a party on 5 November 2009 which turned into a late-night drinking session.
When she took the youngster back to her house she realised she had forgotten her keys and abandoned the girl outside.
Lips were blue
She headed back to collect the keys but instead of returning with them went to sleep in her sister's house.
The court heard that the girl, who cannot be named for legal reasons, was discovered just before 0830 GMT on 6 November.
A bus driver and classroom assistant arrived to take her to school, where she receives supported learning.
They saw the pram, which had tipped over, and noticed that the child was in it with her face pressed against the stone stairs outside the house. She was shivering and her lips were blue.
As paramedics later treated the girl, Harper was spotted walking down the street from her sister's house.
Police officers spoke to her, and she told them she had very little recollection of what had happened the night before.
'Reprehensible' conduct
She was taken to Aikenhead Road police office and later admitted to abandoning the girl.
The youngster was taken to Yorkhill Hospital where doctors treated her for hypothermia and bruising from the straps of the pram.
Harper admitted culpable and reckless conduct by abandoning the girl outside her home.
Sheriff Kenneth Mitchell told Harper that her conduct was "wholly unacceptable and reprehensible" but deferred sentence to allow her to show good behaviour.
Admonishing her on Wednesday following a positive social work report, the sheriff said that his sentencing options were limited because of Harper's circumstances.