Kenneth Freeman jailed over paramedic sex attack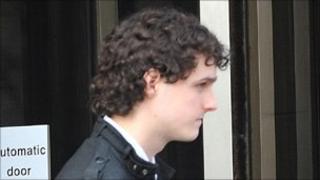 A teenager who sexually assaulted a female paramedic in the back of an ambulance in Glasgow has been jailed for five months.
Kenneth Freeman, 19, from Gourock, Inverclyde, was convicted of attacking the 41-year-old, who cannot be named for legal reasons, in July last year.
Glasgow Sheriff Court heard how he carried out the attack while being taken to hospital with a head injury.
Freeman was also placed on the sex offenders' register.
The teenage student admitted assaulting the paramedic on 6 July last year.
Nightclub injury
His lawyer Alasdair Hendry tried to argue that the assault was not sexual in a bid to stop Freeman being placed on the sex offenders register.
A proof in mitigation was heard, but Sheriff John Baird said there was not any doubt that the attack was sexual.
The court heard that Freeman had been on a night out at Viper nightclub in Great Western Road when he suffered a head injury and club staff called for an ambulance.
During the proof in mitigation, the paramedic said that she decided to take Freeman to the hospital and sat in the back with him while her colleague drove.
She recalled how Freeman asked several times if she would like to be his mistress, despite telling him that he was acting inappropriately.
The paramedic said Freeman then took his seatbelt off, pinned her down, removed her fleece and ID badge, and attacked her.
The woman said there were "repeated punches" to her head, and that Freeman placed his face against her breasts and tried to bite her.
Rape fear
She added: "I was terrified, I though he was going to kill me or rape me."
Freeman was eventually pulled off the paramedic by porters when the ambulance arrived at hospital.
The victim had to be treated for scratches to her head and an elbow injury and was off work for eight weeks after the attack.
Freeman told the court that he had no recollection of being in the ambulance at all.
His lawyer tried to argue that he had suffered a head injury that was causing him to act in this way but Sheriff Baird refused to accept that this reduced the sexual element of the assault.
Before sentencing, Sheriff Baird told Freeman: "It was a brutal and sustained attack on a female paramedic who was carrying out her duties on a member of the public and who, in her own words, thought she was going to be killed or raped.
"In these circumstances the only appropriate disposal that I can impose for this offence is custodial."