Maryland Farm deal advances Woodland Trust plan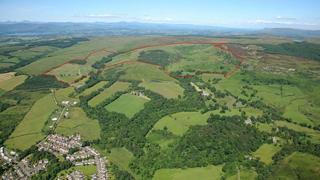 Ambitious plans to create a new native woodland 12 miles (19km) from Glasgow have taken a huge step forward with the completion of a £460,000 land deal.
The Woodland Trust Scotland said it had purchased the 600-acre (240-hectare) Maryland Farm in West Dunbartonshire.
The charity aims to create a community resource over the next 15 years through a mix of native woodland and pasture.
The trust hopes that with government grant funding it will only have to raise a further £180,000 to proceed.
'Ambitious vision'
The purchase of the farm at Lang Craigs, near Dumbarton, marks the culmination of 18 months of fundraising which has been supported by Scottish celebrities such as Robbie Coltrane and Elaine C Smith.
Carol Evans, director of the Woodland Trust Scotland, said: "Sites such as this rarely become available and our vision for the site is ambitious.
"We aim to plant 200,000 native trees such as Scots pine, rowan and birch, of which 50,000 will be planted by local school children and the public."
The trust hopes that in as little as 12 years, the site will be transformed into a flourishing woodland that will provide a home for wildlife.
The £1.5m project also aims to create a community green space which can be used for family days out, rambling and picnics.