Care worker Tracey Hannah struck off over relationship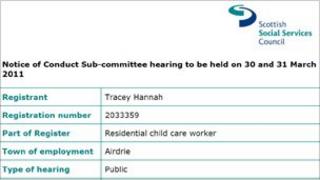 A care worker has been struck off after she admitted forming an inappropriate relationship with a 15-year-old boy in her care.
Tracey Hannah, 39, met the teenager, who was serving a sentence for culpable homicide, at a secure unit in Airdrie.
She was later sacked after management found out about the relationship.
The Scottish Social Services Council removed her name from the register after finding she had put the boy's mental health and wellbeing at risk.
Ms Hannah admitted four charges of misconduct at a disciplinary hearing in Dundee.
The residential care worker, who had 11 years experience, did not appear to defend herself and admitted her misconduct by way of joint minute.
Inappropriate correspondence
It emerged during the hearing that Ms Hannah wrote notes and sent cards to the youth, who cannot be named for legal reasons.
The private, personal, inappropriate and unprofessional written correspondence was sent between December 2009 and July last year.
She also admitted phoning the teenager, referred to as AA, contrary to her employers' reasonable instructions.
Ms Hannah even tried to phone the secure unit by using an alias in order to speak to AA.
She also admitted telling AA on 3 June 2010, of a proposed move for him to another unit, despite express instructions not to, and by doing so put his mental health and wellbeing at risk.
Ms Hannah now has 14 days to appeal her removal from the register.