Police probe 'suspicious' death in Barrhead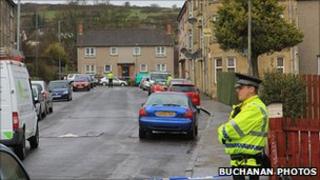 A man's body has been found at a block of flats in East Renfrewshire, police have confirmed.
The discovery was made in a close in Gertrude Place, Barrhead, at about 0120 BST on Sunday.
Police said the 45-year-old man may have been attacked and stabbed in the street close to where he was found.
They are treating his death as suspicious and are appealing for witnesses to come forward with any information.