No safety checks at Gordon Lennon crash site, FAI hears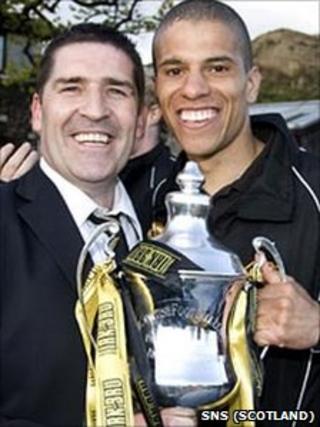 Checks into the risks of off-road driving were not carried out on part of a Ross-shire estate where a footballer was electrocuted, an inquiry has heard.
Dumbarton FC captain Gordon Lennon was a passenger in a 4x4 that crashed into an electricity pole. He later died.
Andrew Matheson, a member of the trust that owns land on the Brahan Estate, said there was a verbal agreement with off-road enthusiasts to use the area.
But he told the inquiry safety checks were not made on their activities.
The fatal accident inquiry (FAI) also heard that Captain Matheson's Grandchildren's Trust operated its own 4x4 experience which was rigorously assessed for safety.
The FAI, which opened last week at Dingwall Sheriff Court, has been taking evidence on Mr Lennon's death in June 2009.
The 26-year-old footballer, originally from Larne, County Antrim, had lived in Paisley.
Trustee Mr Matheson, 68, told the inquiry he bitterly regretted that the accident had happened.
He added: "But short of telling people that they may not carry out activities on the estate I don't think we are able to prevent hazardous situations arising."
The FAI heard that the off-road driving where the accident happened was stopped following Mr Lennon's death in Raigmore Hospital in Inverness.
Asked why the activity was halted, Mr Matheson said: "It was because the whole situation would seem to be unsatisfactory, unsafe and unwise to continue with it as it was."
He was asked whether the trust played any part in checking if the land was suitable for off-road driving. Mr Matheson replied: "We didn't see it as our position of expertise."
The inquiry, before Sheriff Alasdair MacFadyen, continues.