Helen McGlone given health cash in £5m smear test claim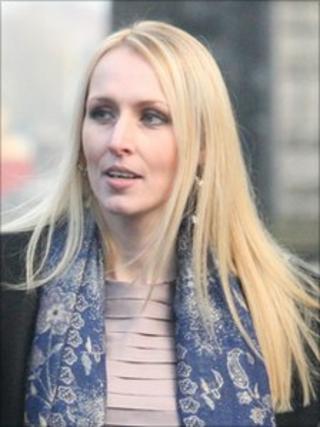 Scotland's largest health board has agreed to pay £150,000 to a woman who is claiming £5m damages after medics failed to spot her cancer symptoms.
NHS Greater Glasgow and Clyde is to give the cash to Helen McGlone pending a final settlement figure.
The offer came after the 31-year-old petitioned the Court of Session for help in paying medical treatment bills.
The court previously backed her case that an earlier cancer diagnosis would have helped her avoid a hysterectomy.
At an earlier hearing, the Court of Session in Edinburgh heard how Ms McGlone gained first class honours in physics and applied mathematics at Glasgow University and also has a PhD in particle physics.
After her studies she went to CERN, the European Organisation for Nuclear Research, in Geneva, Switzerland, to work on research projects there.
Ms McGlone was diagnosed with cervical cancer after a general health check in Geneva in January 2008.
She told the court how Swiss doctors were surprised as previous tests in December 2005 and March 2006 had not alerted Scottish medics to the symptoms.
Swiss diagnosis
By that time her tumour had reached a stage where a hysterectomy was the only option.
She now fears she will be unable to have children and claims that the cancer effectively ended her hopes of a high-earning career.
Ms McGlone, who now lives in Falkirk, claimed the smear tests of December 2005 and March 2006 showed "pre-invasive" cancer which would have needed less serious treatment.
NHS Greater Glasgow and Clyde (GGC) admitted mistakes were made with smear tests carried out at Glasgow's Royal Infirmary and at the Sandyford Clinic.
But it contested Ms McGlone's action, claiming that the errors had no bearing on her eventual treatment because the cancer was already at an advanced stage.
At a hearing earlier this month, Lord Tyre threw out the health board's claim and ruled in favour of Ms McGlone.
Radiology treatment
Further court hearings were scheduled to decide how much to award in damages.
Ms McGlone returned to court, however, to ask for an interim award to help her pay for ongoing medical treatment.
Andrew Smith QC said Ms McGlone thought private radiology treatment could help her condition, but she could not afford it.
He said NHS GGC could save 8% interest it would otherwise have to pay on part of the inevitable settlement.
After some argument over the legal technicalities, health board counsel Alan McLean QC offered £150,000.
Lord Tyre welcomed the informal agreement, saying he did not believe he had any power to order an interim payment.