Quarriers social care charity plans to cut staff pay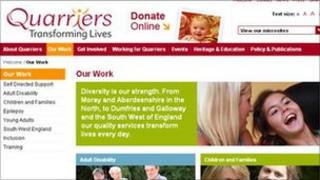 One of Scotland's largest social care charities is proposing to cut staff pay in a bid to safeguard its services.
Glasgow-based Quarriers has entered a 90-day consultation with its 2,000 staff over a series of changes to their terms and conditions.
Other measures include cuts to sick and maternity pay, making all future pay increases discretionary and increasing pension contributions.
Quarriers said the moves reflected cuts to its main funders - local councils.
The charity said it was proposing to amend the sick pay scheme "to no sick pay for the first three days of illness, and up to three months full pay, followed by three months half pay for long-term absences".
Cost of living and incremental pay increases would both become "discretionary rather than automatic".
Redeployment changes
Maternity, paternity and adoption pay would be reduced to the statutory minimum.
Employees on the final salary pension scheme would be asked to increase contributions by 3%.
There would also be changes to its redeployment policy by removing excess travel payments and salary protection.
Quarriers said the proposals had been worked up following a "thorough review of competitor organisations across the UK".
The charity said there was now a "clear need to adjust staff pay-scales and terms and conditions" if it was to remain competitive when bidding for new contracts.
Quarriers chief executive, Paul Moore, said: "Many organisations are struggling due to the increased financial pressures faced by local authorities, who are their main sources of funding.
"Quarriers is not immune and the charity has to act now to safeguard staff and the people we care for.
"The proposed changes are designed to protect jobs and services."
Quarriers was founded in 1871 by William Quarrier in Bridge of Weir, near Glasgow.
The organisation now employs about 2,000 staff and has an annual turnover of £40m.