London Olympic Games volunteers sought in Glasgow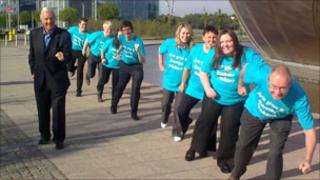 A massive recruitment drive is under way in Glasgow for volunteers to help out at the 2012 London Olympic and Paralympic Games.
About 2,000 people will be interviewed for "Games Maker" posts over the next nine days at the city's science centre.
Glasgow is hosting the fourth of nine selection events, with 100,000 people being interviewed across the UK.
Applications from hopefuls were taken last year. The national selection process will continue until March 2012.
Sir Craig Reedie, member of the Games' organising committee, said: "London 2012 volunteers will be the face of the Games - every role counts, from collecting tickets to welcoming athletes at the airport.
"Games time volunteers are vital to the success of the Olympic and Paralympic Games - their contribution is invaluable.
"From the athletes to organisers, from the media to the public, we all rely on the volunteers to deliver successful sporting events. The Games Makers will make London 2012 the greatest show on earth."
The selection event will see prospective volunteers meet with staff from the Games organisers.
They will then see an exhibition about Olympic and Paralympic volunteering before taking part in a 30 minute interview.