Sheep rescued in 8-hour operation on Strathblane cliff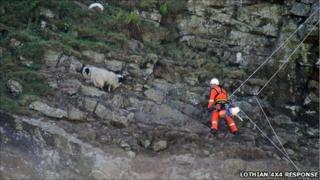 Six sheep stranded for a fortnight on a cliff face have been brought to safety following an eight-hour rescue operation.
Twenty-three volunteers from four charities were involved in efforts to bring the animals off the steep ridge at Dunglass near Strathblane in Stirlingshire.
The operation was mounted after a local farmer alerted the Scottish SPCA and Trossachs Search and Rescue.
Specialised vehicles, equipment and were ropes used.
Land Rovers provided by Lothian 4x4 Response were used as 'anchors' to tie ropes to then members of Trossachs Search and Rescue and the High Access Rescue Team were lowered down to the sheep.
Four of the animals were guided uphill while two were placed in sacks and lowered to the ground.
'Technically challenging'
Scottish SPCA inspectors were on hand and supervised the operation to ensure the safety of the animals.
The operation was hampered by the recent dry conditions which meant that large spikes normally hammered into the soil during similar rescues could not be used as the earth was too crumbly.
Stuart Ballantyne of Trossachs Search and Rescue said: "Alisdair Bain is a very responsible farmer and called us in as soon as he realised the sheep were not going to escape from the cliff.
"He and his staff ensured they had sufficient feeding thrown to them on a daily basis until we could get the necessary resources together to mount this technically-challenging operation.
"This was a real partnership operation and we are all delighted that we rescued all six sheep and all are seem to be healthy and unharmed by their ordeal."