Worker sues Forestry Commission over Lyme Disease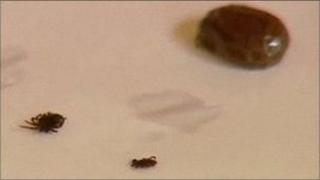 A man who became seriously ill after contracting Lyme Disease from an infected tick bite is suing his employers for £80,000 damages.
Iain MacEchern, 57, claims the Forestry Commission did not do enough to warn or protect staff from the infection, which can cause arthritis if left untreated.
He has worked for the agency for more than 20 years in the Lorne area of Argyll and Bute.
The commission is contesting the action at the Court of Session in Edinburgh.
Mr MacEchern, from Duror, Appin, in Argyll, fell ill in September 2007 and his symptoms were later diagnosed in hospital as being caused by Lyme Disease.
'Almost died'
The bacterial infection is transmitted from animals to humans through tick bites.
Mr MacEchern maintains that by a week after the first symptoms he was almost unable to walk and was in extreme pain.
He said he "almost died" and was in hospital for months, during which time he was confused and had bizarre dreams and delusions.
The forestry worker is also said to have had severe back pain and underwent emergency surgery following internal bleeding.
Mr MacEchern also said his legs have little sensation and his balance is significantly impaired and he cannot walk on rough or sloping ground without help.
Mr MacEchern claims that he was usually bitten by ticks two or three times a week between April and October.
He said that since 1990, the commission was aware that steps could and should be taken to minimise the risks to staff of contracting Lyme Disease.
Liability denied
These included wearing light-coloured clothing to allow the ticks to be seen before they got into the skin, using close woven, cover-all clothing, tucking trousers into socks, wearing gaiters and a suitable insect repellent on exposed skin.
Mr MacEchern claims no provision was made of such clothing and the commission did not instruct or enforce the wearing of it or the routine use of a DEET-repellant.
The Forestry Commission, which denies liability, is contesting the action and maintains that it had in place clear guidance over Lyme Disease and how to deal with the presence of ticks.
It claims Mr MacEchern attended meetings at which the disease and its prevention featured on the agenda.
The commission also claims he was provided with clothing, pincers and information sheets.
It also said Mr MacEchren's home is in an area where ticks are prevalent and he regularly fished in areas where the parasites were present.
The commission has called on him to set out the basis on which he asserts that all or any of the measures it put in place were "inadequate" so as to amount to a breach of its duty of care or statutory duties.