Raymond Cartwright jailed for murdering Alyson Bow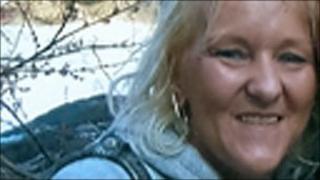 A man who admitted murdering his partner just weeks after he had been banned from going near her has been jailed for a minimum of 17 years.
Raymond Cartwright, 41, stabbed Alyson Bow to death, following a row at a flat in the west end of Glasgow in October.
The High Court in Glasgow heard the father-of-three had been ordered to keep away from the 45-year-old former nurse after allegedly threatening her.
Judge Lord Brodie imposed a mandatory life sentence on Cartwright.
He said the murder was "particularly grave" given claims by Cartwright's QC that he was besotted with Ms Bow and had planned to marry her.
The court heard how the pair had started dating in November 2009.
Female screaming
Cartwright initially stayed with Ms Bow at her flat in Glasgow's Pollokshields area while she recovered from leg surgery.
They later moved to his home in the city's west end before Cartwright went to live with his friend, Justin Tobin, in Thornwood Place, also in the west end.
On 7 October last year, the day of the killing, Mr Tobin went out to walk his dog leaving Cartwright and Ms Bow in his flat.
Morag Jack, prosecuting, said a female who was screaming and groaning could later be heard coming from the property.
Mr Tobin returned to find his door locked. He eventually met Cartwright who told him Ms Bow was inside.
Mr Tobin entered and discovered her corpse lying face down on a blood-soaked floor.
Cartwright later ordered Mr Tobin to go to Ms Bow's home to collect her belongings, but he instead went to the police.
The killer, who has a previous high court conviction for robbery, was later arrested near to his flat.
The prosecutor said the victim suffered a number of stab wounds, one of which cut through her jugular vein.
The court heard that Ms Bow's death has had an "enormous impact" on her university student daughter, Holly.
Ms Jack added Holly, 22, had hoped her mother would have walked her down the aisle on her wedding day.
Ms Bow's 17-year-old son Jordan has also at times been too ill to attend school.
Lord Brodie told Cartwright that his jail term would have been 18 and a half years but for the guilty plea.
The judge added: "I would regard this as a particularly grave murder. The victim was a woman who was vulnerable and who you said that you loved."