Craig Brown in legal bid to get cash from Motherwell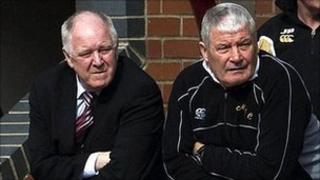 Aberdeen manager Craig Brown and his assistant Archie Knox have launched a £25,000 legal action against their former club, Motherwell.
Brown and Knox believe they are each owed £12,500 for helping the team reach the League Cup semi final and third qualifying round of the Europa League.
Motherwell is challenging the claim at an employment tribunal in Glasgow on the grounds it was not lodged in time.
The case was adjourned and is expected to be called again later this year.
Lawyer Paul McQuade represented Brown and Knox, who did not attend the hearing.
Employment judge Paul Cape said he was "dismayed" that they had not appeared.
Touchline spat
He added: "We cannot go any further meantime without them being here."
Former Scotland boss Brown joined Motherwell in December 2009 with his assistant Knox, initially on an interim basis following the sacking of Jim Gannon.
They left 12 months later to sign two-and-a-half year deals with Aberdeen.
Brown and Motherwell chairman, John Boyle, were involved in a touchline spat when their clubs met at Fir Park last month.