Driver guilty of pensioner truck death in Coatbridge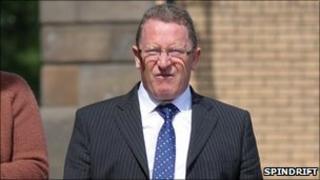 A council driver has been found guilty of causing the death of a pensioner in Lanarkshire after he failed to spot her crossing the road.
Michael McGeechan ploughed into Elizabeth McSorley, 68, in his seven tonne truck in Coatbridge in August 2009.
A jury at the High Court in Glasgow found the 46-year-old father from Airdrie guilty of causing death by careless driving.
He is due to be sentenced next month.
McGeechan told the court he wished he had chosen a different route that day.
He was originally charged with causing death by driving dangerously but that charge was amended.
The court heard how the collision occurred in Portland Street, Coatbridge, at the junction of Kildonan Street.
Clean licence
McGeechan was working as a special uplifts driver with North Lanarkshire Council at the time.
Jurors were shown CCTV footage of Mrs McSorley, from Coatbridge, being hit by McGeechan's vehicle.
The lorry driver told the trial how he had a clean driving licence.
His counsel Thomas Ross asked: "If you could turn the clock back, what would you do?"
McGeechan answered: "I would not have went that way that day. I would not be here and Mrs McSorley would still be living."
McGeechan was convicted of driving carelessly and failing to keep a lookout for pedestrians.