Scottish Commonwealth Games medallists to share fund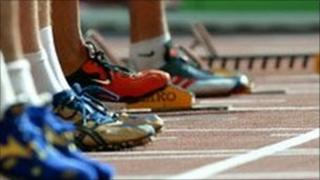 Scottish Commonwealth Games medal winners are to be given money to help them when they retire from sport.
A total of 28 medallists will receive a share of a fund worth nearly £200,000 to recognise their efforts and help prepare for life after sport.
Gold, silver and bronze medallists at the 2010 Delhi Games will get £10,000, £5,000 and £2,500 respectively.
The money will be invested on their behalf. The athlete will be given the capital and interest when they retire.
It is hoped a similar scheme will operate for those taking part in Glasgow 2014.
'Real step forward'
Commonwealth Games Scotland chairman, Michael Cavanagh, said: "It is recognised that while many athletes receive some contributions towards their sporting costs whilst competing, through the Lottery and other support mechanisms, most put their non-sporting lives on hold and can struggle to re-establish their career after they retire.
"These funds are targeted to invest in pensions or to assist in establishing their post-sporting life following retirement from top-flight competition.
"We believe this is a real step forward and something we are keen to continue for the foreseeable future.
"We also see this as a tangible benefit for athletes, resulting at least in part from Scotland being the next Games hosts and CGS receiving monies from the required buy-out of our marketing rights by the organising committee."
Financial security
Former swimmer and Commonwealth Games silver medallist Andy Hunter said: "Whilst Lottery and other athlete funding has been a great support during my swimming career, this is a great way of helping athletes prepare for the future.
"As someone who has just retired from their sport and is starting out on a new career path, this funding will be invaluable in helping me bridge the gap between my old life and my future direction."
Boxing bronze medallist Stephen Simmons, who has recently joined the professional ranks, will also qualify.
He said: "It is great to see the athletes being recognised in this way and I would like to thank Commonwealth Games Scotland for introducing this new scheme.
"Turning pro is a great opportunity for me, but is still no guarantee of financial security, and this award will help me through this important transition period."