Arrests over anti-nuclear protest at Faslane base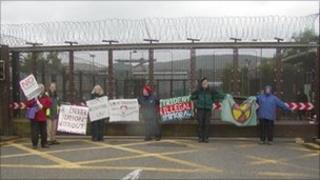 Police have arrested 10 anti-nuclear campaigners who blockaded the Faslane Naval Base on Gare Loch - the home of the UK's Trident submarine fleet.
Activists from Trident Ploughshares and Faslane Peace Camp started their protest outside the base at 0700 BST.
Four people blocked the north gate, while six others blocked the south gate by locking themselves together.
Strathclyde Police said 10 people were detained over alleged breach of the peace charges.
The activists said their protest was a call for "the anti-Trident SNP government to fulfil its commitments and demand immediate disarmament of Trident and a global ban on nuclear weapons".