Andrew Docherty jailed for life for killing uncle Brian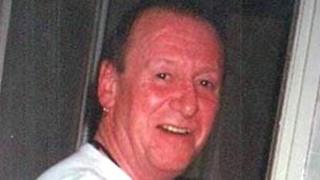 A man who murdered his uncle has been jailed for life - along with a friend who helped him carry out the attack.
Andrew Docherty, 25, and Michael Dobson, 26, attacked Brian Docherty following a row at the 55-year-old's flat in Greenock in August.
They battered their victim so badly that every bone in his face was broken.
Judge Lord Pentland, who said the level of violence was "deplorable", ordered they should serve at least 16 years for the murder before they can seek parole.
The judge added three months to Andrew Docherty's minimum sentence because he was on bail at the time of the fatal attack.
During their trial, Docherty and Dobson claimed they acted in self defence but a jury convicted them of murder.
'I panicked'
The High Court in Glasgow heard heard how Brian Docherty wanted his nephew to take the blame for an assault of which they had been accused.
Docherty, from Greenock, and Dobson, from Leicester, had gone to the uncle's flat in Clynder Road, Greenock, on 16 August 2010.
A row erupted and Brian Docherty and his nephew ended up on the floor.
Andrew Docherty told the jury: "I was not in control. I panicked because I did not want me or Michael getting stabbed."
He claimed he thought Mr Docherty would recover after the attack.
The trial heard that Dobson - whose hands were seen covered in blood - went to the cinema with his brother after the killing.
Mr Docherty was found to have a string of injuries including bleeding from the brain and multiple facial fractures.
A pathologist said some of the facial wounds were likely to have been caused by a sharp object.
Jailing Docherty and Dobson, Lord Pentland told them: "The evidence at your trial demonstrated that the scale of violence you both used in the murder was deplorable. You inflicted on him very extensive blunt force injuries."
The judge noted that Mr Docherty suffered multiple injuries to his cheeks and jaw during the attack.
His face and chest were blackened with bruises and he had eight fractured ribs and a broken bone in his neck.
He had been battered with a heavy object or objects and cut with something sharp.
The judge added: "Having viciously attacked Mr Docherty you left him alone in his house and made no attempt to summon assistance for him."