Strathclyde University plans to axe courses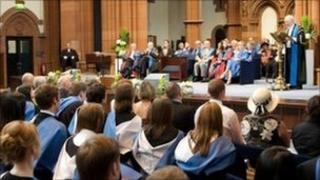 One of Scotland's largest universities is planning to cut degree courses in a bid to save cash.
Strathclyde University wants to drop geography, sociology and community education from its Faculty of Humanities and Social Sciences.
Applied music, which was withdrawn last year, would not be replaced.
The proposal could mean up to 25 jobs being lost - part of 100 post cuts already announced. Students and unions have condemned the proposals.
The university is consulting with unions and staff affected and hopes to avoid compulsory redundancies.
'Distinctive vision'
It said there would be possible redeployment opportunities and staff would also have the option of taking voluntary redundancy.
A university spokesman said: "A strong Faculty of Humanities and Social Sciences is critical to the delivery of the university's academic aim of encouraging multi-disciplinary research and teaching.
"The new faculty has developed a distinctive vision which will strengthen its reputation in teacher education, English, history, journalism, languages, law, psychological sciences and health, social work and social policy, government and public policy.
"These proposals will allow it to build its research profile, deliver teaching excellence informed by current thinking, and make an even greater impact on society through the development of a strong public policy portfolio."
He said the proposals were driven by the academic needs of the faculty, not the current financial climate.
The proposals have been condemned, however, by students and unions.
The University and College Union said it appeared that Strathclyde was pursuing a strategy to reduce its humanities and social sciences courses.
Students' Association President, Philip Whyte, said: "Once again, for all its talk of equal footing for the arts and humanities, this university has shown its true colours - namely the sacrifice of popular and academically robust courses on the altar of research.
"Each course mooted for closure has been proven to stand up to academic scrutiny, student satisfaction scores, employability and a raft of other such metrics.
"Yet because they fail to conform to the research standards of a narrowly defined 'international technological university', they find the axe swinging in their direction."
Last month it emerged that Strathclyde University is proposing to close its theatre and art gallery and make its head of music redundant as part of measures to save up to £12m.