Two more Legionnaires deaths in Glasgow and Lanarkshire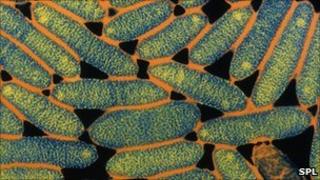 Two people have died from Legionnaires' Disease in the Glasgow and Lanarkshire health board areas, bringing the number of deaths to three.
Four other people have contracted the disease over the past few weeks.
Health officials are now treating the situation as an outbreak and are trying to identify a common source.
Legionnaires' Disease is caused by a bacteria found in water but is spread when water droplets are vaporised, for example, by air conditioning units.
It was reported last week that an elderly man had died from the disease while four others were receiving treatment.
One of those four - an 81-year-old man - has since died.
The second death was a man who was admitted to hospital at the weekend suffering from the disease.
A total of seven people - three of whom have died - have now been confirmed as having the disease.
Five of these cases are in the NHS Greater Glasgow and Clyde (GGC) area and two are from the NHS Lanarkshire area.
Public health protection units from both health boards are investigating the outbreak with Health Protection Scotland (HPS), the Health and Safety Executive and environmental health officers.
'Thorough investigations'
Dr Syed Ahmed, NHS GGC lead consultant in public health, said: "Despite our very thorough investigations to date we have been unable to find a common source for the infections.
"We expect a small number of cases within the community every year but this rise, so close together, is most unusual and we feel we must treat these cases as an outbreak.
"Together with NHS Lanarkshire, HPS, environmental health and other colleagues we are investigating each and every case to identify a common source."
Dr Ahmed said that legionella cannot be spread from person to person.
He added: "It is a bacteria found in water and can be spread through aerosols produced from water, such as air conditioning and showers and it cannot be contracted by drinking contaminated water.
"The symptoms and signs of Legionnaires' Disease include headache, fever, dry cough, breathing difficulties, stomach pains and diarrhoea."
Anyone with these symptoms is advised to contact NHS 24.