Microlight event at Prestwick Airport hit by weather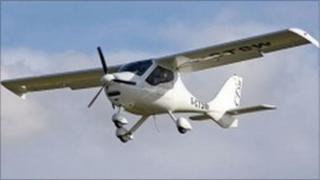 Poor weather meant that just one microlight made it to Prestwick Airport for a meeting of enthusiasts.
Up to 20 of the aircraft had been expected to fly in for the British Microlight Aircraft Association's (BMAA) annual safety day.
It is the first time the event has ever been held in Scotland.
BMAA safety officer Kim Taylor said he was "disappointed" but he said that many microlight pilots had driven to the event to hear the safety advice.
The association had said up to 20 microlights would fly in to the airport but windy and wet weather conditions meant just one made it.
National Air Traffic Services are providing the safety day venue at their nearby air traffic control centre, and a full day of practical safety information for microlight pilots has been arranged.
Before the event, Glasgow Prestwick chief executive Iain Cochrane said: "Aviation safety is paramount and whilst we don't generally allow microlights at Glasgow Prestwick due to the levels of commercial aircraft activity, we recognise that this safety day is very important and we're delighted to host them.
"Prestwick Airport air traffic control has been working closely with the BMAA to ensure a successful and enjoyable day."