Vale of Leven C.diff inquiry to hear from nursing staff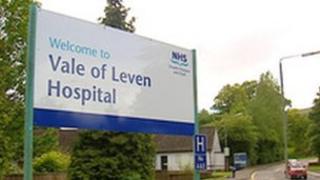 An inquiry into Scotland's worst Clostridium difficile (C.diff) outbreak at the Vale of Leven Hospital is set to hear from nursing staff.
The probe, chaired by Lord MacLean, will re-convene later for a third session at Maryhill Community Central Halls in Glasgow.
A total of 55 patients developed C.diff and 18 died at the Vale of Leven between December 2007 and June 2008.
C.diff was blamed for nine deaths and was a contributory factor in nine more.
Julie-Anne Jamieson, secretary to the inquiry, said: "The third session of oral hearings will start on 16 May and run until late July, starting with an introductory presentation on C.diff by Ian Poxton, professor of microbiology at the University of Edinburgh.
"The inquiry will then focus on evidence from nursing staff at Vale of Leven Hospital as well as a range of independent nursing experts.
"In August, following a summer break, the inquiry will hear evidence from medical staff from the Vale of Leven Hospital and a number of independent medical experts."
It is expected that oral evidence to the inquiry will finish towards the end of the year, with a final report and recommendations published by September 2012.