Rothesay in line for £1.5m revamp to boost tourism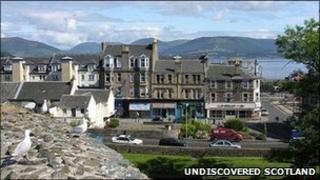 More than £3m of lottery cash is to be spent revamping a Scottish seaside town and the centre of Glasgow's east end.
A grant of £1.5m will fund building regeneration projects in the centre of Rothesay, Isle of Bute, around Guildford Square.
Awards of £1.76m will pay for new shop fronts at Glasgow's Parkhead Cross, and provide short-term lets for crafts people, artists and new businesses.
Both awards are being made through the Heritage Lottery Fund.
Rothesay was the most popular Scottish holiday resort of the 1930s, when tens of thousands of people travelled "doon the watter" by paddle-steamer.
However, changing holiday patterns and depopulation have impacted on the town's fortunes and dereliction and demolition in some prominent areas has left prominent gap sites, raw gable ends and frontages in poor repair.
Argyll and Bute Council hopes the lottery cash will now overhaul these areas.
Councillor Len Scoullar said: "This is fantastic news, not just for Rothesay residents and the wider Bute community, but for the whole of Argyll and Bute.
"This announcement means that former jewels in the town's crown are now to be restored to their former glory, and we all look forward to working to ensure that Rothesay regains its reputation as one of Scotland's most beautiful - and most popular - visitor destinations."
The lottery cash will focus on the heart of the town, Guildford Square, next to Rothesay's medieval royal castle.
Among the projects being undertaken include the refurbishment of Duncan's Hall on East Princes Street, various buildings on Montague Street, and the former Guildford Court Hotel in Guildford Square.
Edwardian buildings
Parkhead Cross in Glasgow is one of the most deprived areas in Scotland with poor property prices resulting in a lack of investment.
However, it has many fine Edwardian buildings which are in need of refurbishment.
The lottery cash will pay for the restoration of 20 shop fronts to improve the appearance of the area and provide short-term lets for artists, traditional crafts people, and start-up businesses.
A training programme will also be run to give opportunities in traditional construction skills.
Glasgow City Councillor Bailie Liz Cameron said: "Parkhead Cross is a not only an outstanding example of Edwardian architecture, but also a historic civic and commercial hub in Glasgow's east end.
"Its restoration would be part of the wider regeneration in this part of the city, attracting both homes and businesses to the area."