William Diven and Alan Baird jailed for bookmaker raid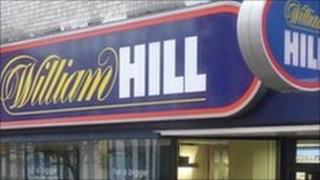 Two men who carried out a bungled armed robbery on a bookmakers in Renfrewshire have been jailed.
William Diven, 35, and 36-year-old Alan Baird admitted assault and robbery charges over the raid at the William Hill branch in Paisley last June.
The High Court in Edinburgh heard the men, both from Paisley, were recognised and fled with just a tray of coins.
Baird was jailed for four-and-a-half years. Diven was jailed for four years and three months.
The court was told that most of the day's takings were already locked in a safe by the time the pair went into the branch.
Although they had tried to cover their faces they could still be recognised on the shop's CCTV.
Kitchen knife
They fled with just a coin tray after a member of staff pressed a panic alarm.
When police arrived they saw a man in a red jacket running in nearby Stock Street.
When witnesses told the officers one of the robbers was wearing a red jacket they went back to Stock Street.
Diven, topless, was crouched in a close, stuffing his red jacket and a large kitchen knife into a rucksack - along with several yellow rubber gloves similar to those worn during the robbery.
Almost all the £70 which had been in the coin tray was recovered.
Baird and Diven later admitted assault and robbery.
Diven's sentence was lower as he had less of a criminal record.