Gerard Veldon jailed for murdering David Goodhall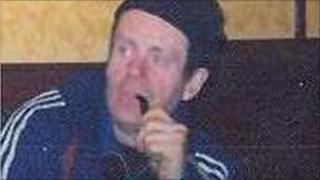 A man who admitted beating and stabbing a frail 63-year-old to death in his North Lanarkshire home has been jailed for a minimum of 13-and-a-half years.
Gerard Veldon, 47, admitted murdering David Goodhall following a row at the flat in Airdrie in February this year.
He stabbed Mr Goodhall and hit him with ornaments, before returning hours later and stabbing his dying victim again.
Jailing Veldon for life, judge Lady Dorrian said he had carried out a "frenzied attack".
The court heard how father-of-four Mr Goodhall was in poor health and had recently suffered a stroke.
His flat in Laggan Road, Airdrie, had been adapted for the elderly and the infirm.
His friend Stephen Love, visited him on 4 February - the day of the murder - and was joined by Veldon.
'Six bangs'
Kath Harper, prosecuting, said loud thumping could be heard coming from the flat that afternoon.
Miss Harper added: "A neighbour heard between four and six bangs. She thought it sounded like someone knocking down a wall with a sledgehammer."
That evening, Veldon was seen at another man's flat with a heavily bleeding gash to his hand.
Miss Harper said that later that evening, Mr Love went to a neighbour of Mr Goodhall and told her to call an ambulance because "Davy's been stabbed".
Paramedics found the victim's face had been badly beaten and he had also been repeatedly stabbed.
He was rushed to hospital, but pronounced dead. The cause of death was stab wounds to the chest and a head injury.
Veldon later admitted to police that he had gone "berserk" and had hit and stabbed Mr Goodhall.
Lady Dorrian told Veldon, who has a lengthy criminal record, including a five-year jail term for assault, that she would have imposed a minimum term of 18 years, but for the early guilty plea.
She told him: "The nature, extent and severity in this case suggests the victim was subjected to a frenzied attack in his own home involving considerable force.
"Your record shows that you are a man of violence."