Two more Legionnaires cases in Glasgow and Lanarkshire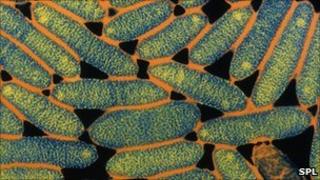 A further two cases of Legionnaires' Disease have been confirmed in the Greater Glasgow and Clyde (GGC) and Lanarkshire health board areas.
A total of nine people have contracted the disease - three of whom have died.
Health officials said that to date they had been unable to find a common source of infection.
Legionnaires' Disease is caused by a bacteria found in water but is spread when water droplets are vaporised, for example by air conditioning units.
Seven of these cases are from the Greater Glasgow and Clyde health board area and two are from Lanarkshire health board area.
Common source
Dr Syed Ahmed, NHS GGC lead consultant in public health, said: "It is important to note that the two newly confirmed cases were exposed to the disease and began displaying symptoms at around the same time as the previous cases.
"Despite our very thorough investigations to date we have been unable to find a common source for the infections."
Dr Ahmed said that legionella cannot be spread from person to person.
He added: "It is a bacteria found in water and can be spread through aerosols produced from water, such as air conditioning and showers, and it cannot be contracted by drinking contaminated water.
"The symptoms and signs of Legionnaires' Disease include headache, fever, dry cough, breathing difficulties, stomach pains and diarrhoea."
Anyone with these symptoms is advised to contact NHS 24.