Possil's Concrete Garden wins Scottish Design Award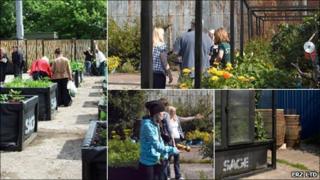 A garden project in one of Glasgow's most deprived areas has been awarded the prestigious chairman's prize at the Scottish Design Awards (SDA).
The Concrete Garden in Possil has used corrugated iron, concrete planters and packing crate trellises to transform derelict land for food growing.
It saw off competition from some big-budget competitors to take the prize.
One judge said it was "a beacon of hope" that showed an area could be made better by simply planting seeds.
Community involvement
The Concrete Garden was designed by Glasgow-based firm Erz Ltd, which specialises in landscape and urban projects.
It was chosen for the chairman's prize by jury chairman, Peter Rees, chief planning officer at the City of London.
"I chose this because I feel that however bad things get, however run down an area becomes there is always something you can do to enhance the area," he said.
"The community can always get involved to make their surroundings better. You don't have to do a lot to make a place.
"To me this is a beacon of hope for the future and evidence that even if the major projects can't be executed in the near future at least we can plant seeds."
Gerry Grams, Glasgow City Council's design adviser and SDA judge, added: "This is a small, beautifully crafted project with quite a low budget but attention to detail is everything and I think that's what shines through.
"You can get a large elaborate project which does nothing for you but sometimes the smallest things, which have a lot of attention to detail and are crafted well by the designers for their clients, are the things that inspire you more than anything."