Glasgow University launches student newspaper archive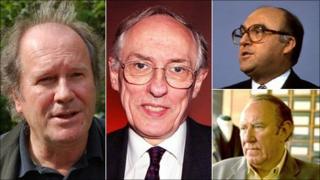 An online archive of student journalism has been launched which contains early contributions from some of Glasgow University's most famous graduates.
Former Labour leader John Smith and novelist William Boyd are some of the well-known names to have contributed to the Glasgow University Guardian.
High resolution scans from the student newspaper can now be viewed online.
The Glasgow Guardian Digital Archive website covers every newspaper produced from 1932 to 1935 and 1955 to 2007.
The newspaper was initially known as the Gilmorehill Globe, then the Gilmorehill Guardian, before adopting its current name in 1959.
'Rekindle memories'
The university said the archive "provides a rich record of student life across 75 years" and covers numerous social service, anti-war, and anti-apartheid campaigns and protest marches.
Other famous contributors to the paper include Scotland's first First Minister, Donald Dewar, journalists Andrew Neil and Iain Martin and the legal philosopher and Scots politician, Sir Neil MacCormick.
Dr Ian Anderson, from the university's humanities advanced technology and information institute, said: "The Glasgow Guardian Digital Archive, which has taken four years to complete, is the largest online collection of student journalism in the UK.
"We made the decision to create the archive in order to support academic and student research and provide alumni across the world with the opportunity to rediscover their past achievements and rekindle memories of their time at the university.
"By making digital versions of the paper available online we can ensure that access to the fragile original newspapers is minimised and their permanent preservation assured."