British Art Show 7 opens in Glasgow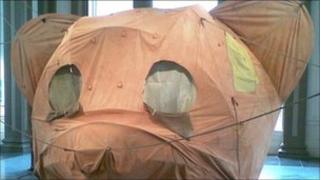 It is 9pm and Glasgow's cavernous Tramway venue is buzzing with people enjoying a preview of British Art Show 7.
Suddenly, the loud chatter drops to a low excited murmur.
A plain metal bench in the centre of the exhibition space has burst into flames and a young, naked man is silently observing it.
The exhibition fence and the presence of a gallery attendant, clutching a fire blanket discreetly behind his back is the only indication that this is a piece of art, and not some over-enthusiastic gallery goer.
In fact this is one of two works by Roger Hiorns, whose interest in the alchemical transformation of ideas as well as material, has also led him to inject liquified cows' brains into a crack in Tramway's walls.
It is easy to view the British Art Show as "emperor's new clothes". Piles of earth and bricks, animal waste and naked men - is any of it really art?
But for the curators of the British Art Show, that is exactly the question the show should prompt.
And it's unfair to suggest it's without its craft. Alasdair Gray is the elder statesman of the group - whether he likes it or not - with his bold colour drawings, framed and hung on the walls of the Gallery of Modern Art in Glasgow. No-one could accuse him of not being able to draw.
Sarah Lucas's sculptures may be tumble drier lint inside stockings, but their fleshy shapes on plinths draw to mind a whole tradition of art from Lucien Freud to Henry Moore.
And while these works may seem ephemeral - often made from sand and mud rather than canvas and paint, their creators clearly expect them to survive beyond the next exhibition, leaving detailed instructions of how to recreate the work, and often rebuilding it themselves (as Turner nominee Karla Black did last week with her powder and make-up creation on the floor of Tramway).
Black is one of nine Scots in this year's lineup, an acknowledgment by the show's London-based curators that Scotland is a force to be reckoned with in the contemporary art scene.
All a far cry from when the British Art Show was last in Glasgow in 1990. A number of Scots did feature in that line-up, but, despite the city's cultural capital status, the Scottish scene was far from celebrated.
What has changed?
According to Francis McKee, director of the Centre for Contemporary Arts, one of three venues staging British Art Show 7, the main difference is that artists no longer have to leave for London.
"I think that's the biggest change," he said.
"That's not only been reversed and artists are staying here, but others are coming here to make art, because of the galleries, the art school and the artists who are already here. The entire landscape has changed."
'Ask questions'
In fact, with the spread of artists and galleries already here, plus events like the GI, there's less of a need for the British Art Show, at least in Glasgow.
We can see this sort of work all year round. But in the context of British art, it's interesting to be able to compare and contrast, with a spread of work over three venues - the CCA, Tramway and the Gallery of Modern Art.
On top of that, it's free, meaning you can go back again and again, perhaps revising your opinion on that work you first ruled out.
That, say organisers, is the point.
"We want people to think and ask questions," said co-curator Lisa Le Feuvre.
"It's not about answers. We want people to think and find the answers themselves and wrestle with their difficulties."
Francis McKee agreed: "It's no bad thing. The ones we argue about will probably be the works which are around six months later and that's the ones which will change people's lives.
"It may not be everyone's cup of tea but there are lots of different kinds of tea. You might try it, and like it. Or you might not like it, and realise you enjoy not liking it."